Caviar – a Russian design atelier specializing in premium smartphone modifications and accessories – announced the first premium Apple iPhone 13 Pro collection. Each device in the series features a mechanical watch with a tourbillon and complex diagonal hourglass decorated with pieces of Moon, Mars, and Chelyabinsk meteors. The new Caviar design based on the iPhone 13 leaks is created to accommodate the larger camera module and a thicker body of the expected iPhone.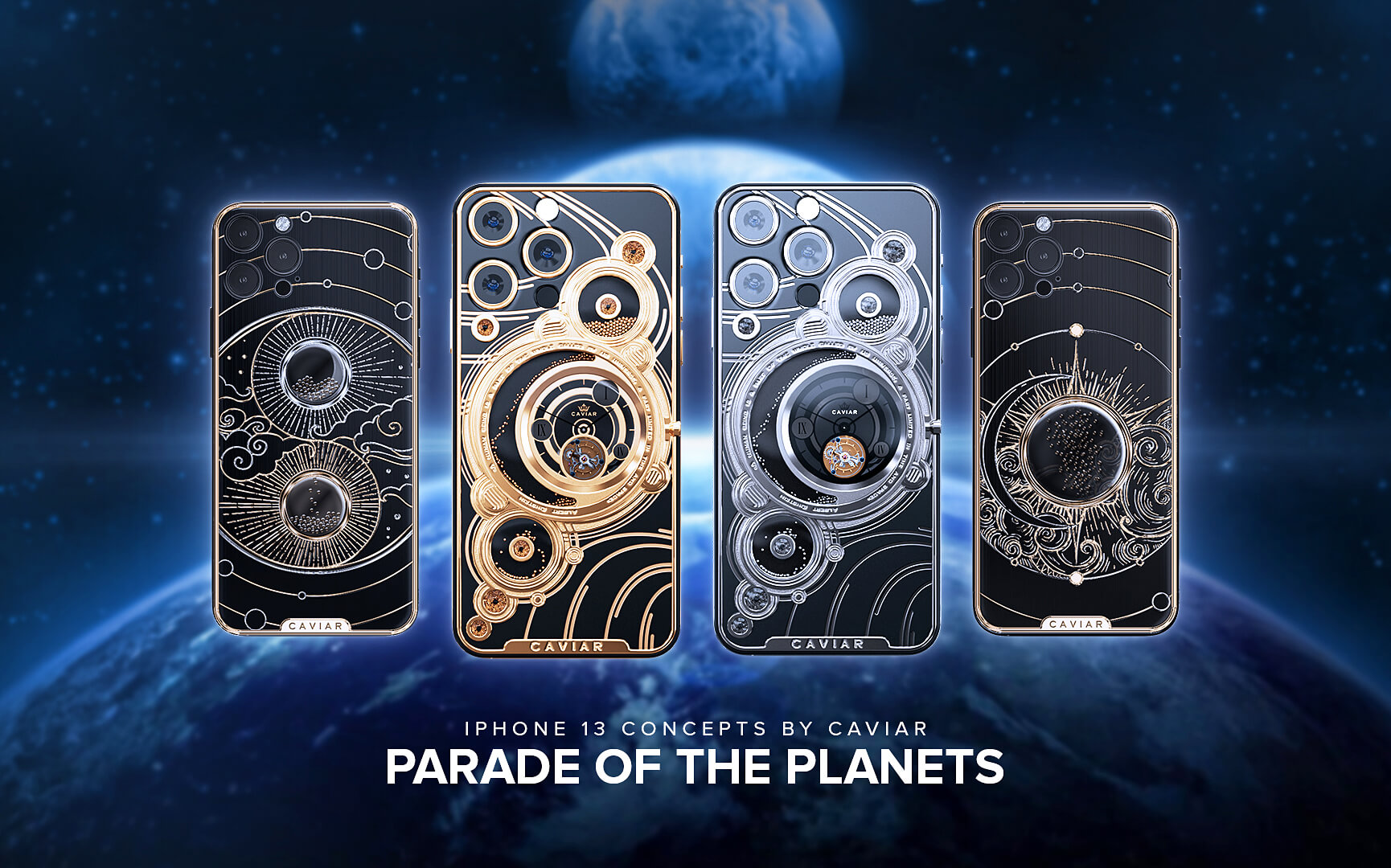 Parade of Planets
The new "Parade of Planets" collection features four unique iPhone 13 designs. The flagship models – Golden and Titanium – are a true fusion of art and technology.
The body of each smartphone is decorated with the "Parade of Planets" – abstract images of Mercury, Venus, Earth, Mars, Jupiter, and Saturn.
The Earth is represented by the embedded mechanical watch with a tourbillon – a mechanism that compensates for the effect of gravity on the movement. Our closest neighbors – Venus and Mars – form a triple-section hourglass to symbolize humanity's race to discover the deepest secrets of outer space.
Meteors and rocks from other planets
A little piece of Moon rock is embedded into the image of the Moon, and a small part of the rock from Mars decorates the silhouette of the Red planet. Other planets are decorated with the fragments of Tsarev and Chelyabinsk meteors. A quote from Einstein engraved around the bezel of the watch says: "A human being is a part of the whole, called by us "Universe," a part limited in time and space."
The Golden model will be available in classic Caviar colors – black and gold. The Titanium model will interest those who prefer the "buttoned-down" luxury – it sports a black body with accents of grey metallic.
Caviar will release only eight flagship models to match the number of planets in the Solar system.
Other designs
The collection will also feature models with a single and dual-section hourglass – Starfall and Moon and Sun. The black titanium body of these models will feature a laser engraving of space scenery. Caviar plans to release only 99 copies of these iPhone 13 Pro modifications.
Each model will be made of titanium – a material used in the Proton-M engine and Falcon 9 body.
Prices
Junior models in the collection will be sold starting from 7030 USD.
The prices for the most intricate and expensive model – Parade of Planets Gold – will start at 12750 USD.
Apple is expected to launch the new iPhone 13 in September 2021. However, Caviar has already opened preorders for the new custom "Parade of Planets" iPhone 13 on the company's website.